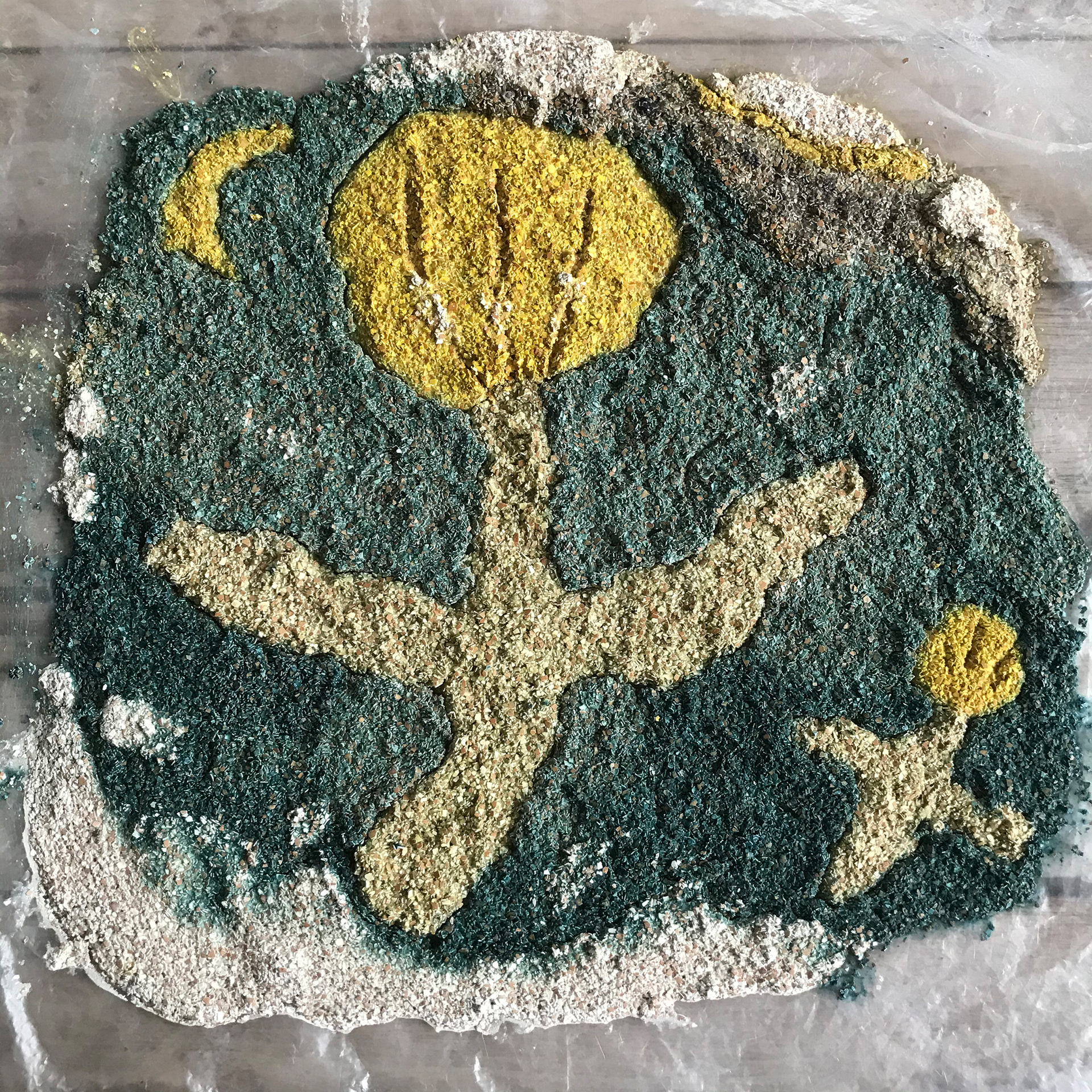 This piece was my second try at making art from eggshells. The first one I did was too small because I didn't have enough of the shells. Normally I like to make colorful art, so I ordered the natural extracted color pigments (turmeric, pandan and butterfly pea) to mix with the main medium. It turned out pretty nice even though the colors were not so bright compared to my usual paintings but it was fun to try something new. I didn't make the sketch first, it was an improvisation. This process also reminds me a little bit of the art therapy class I used to join, where I was making art with the idea of just following my body and not thinking too much.
งานชิ้นนี้เป็นการทดลองทำศิลปะจากเปลือกไข่ครั้งที่สอง ครั้งแรกที่เราลองทำชิ้นมันเล็กๆเพราะสะสมเปลือกไข่มาน้อยไป ปกติเราชอบทำงานสีเยอะๆเราเลยสั่งซื้อผงสีจากธรรมชาติ (ขมิ้น ใบเตย และ อัญชัญ) มาไว้ผสมกับมีเดียมหลัก สีมันก็ออกมาน่ารักดี ไม่สดมากเหมือนสีเคมีที่เราเคยใช้ แต่ก็สนุกดีที่ได้ลองทำสีใหม่ๆ งานชิ้นนี้เราไม่ได้ร่างแบบไว้ก่อน เป็นการอิมโพรไวซ์ทั้งหมด ตอนทำเรานึกถึงคลาสศิลปะบำบัดที่เคยเข้าร่วม ซึ่งคลาสนั้นเค้าให้คิดให้น้อยที่สุดแล้วให้ร่างกายเป็นตัวกำหนดงาน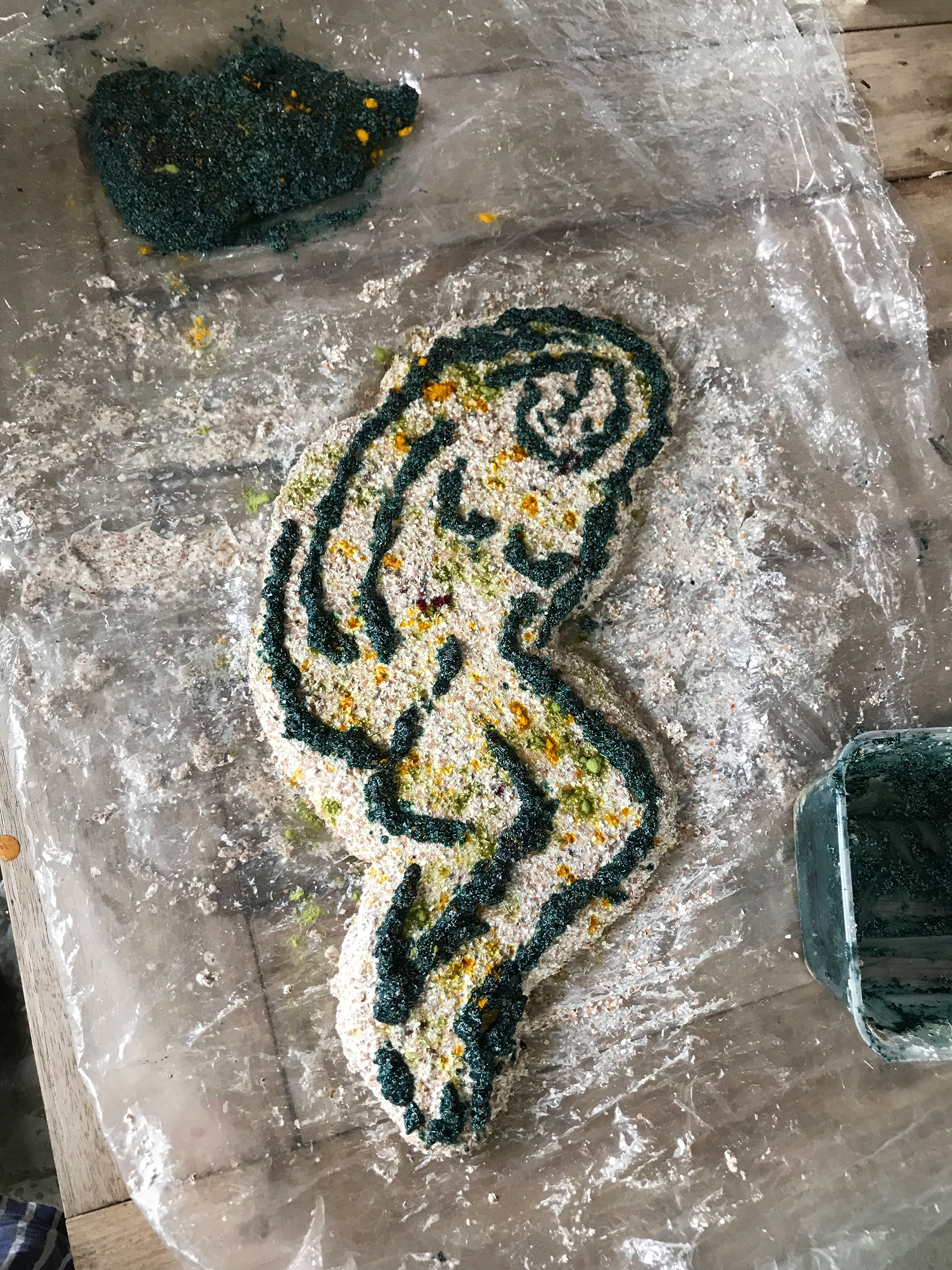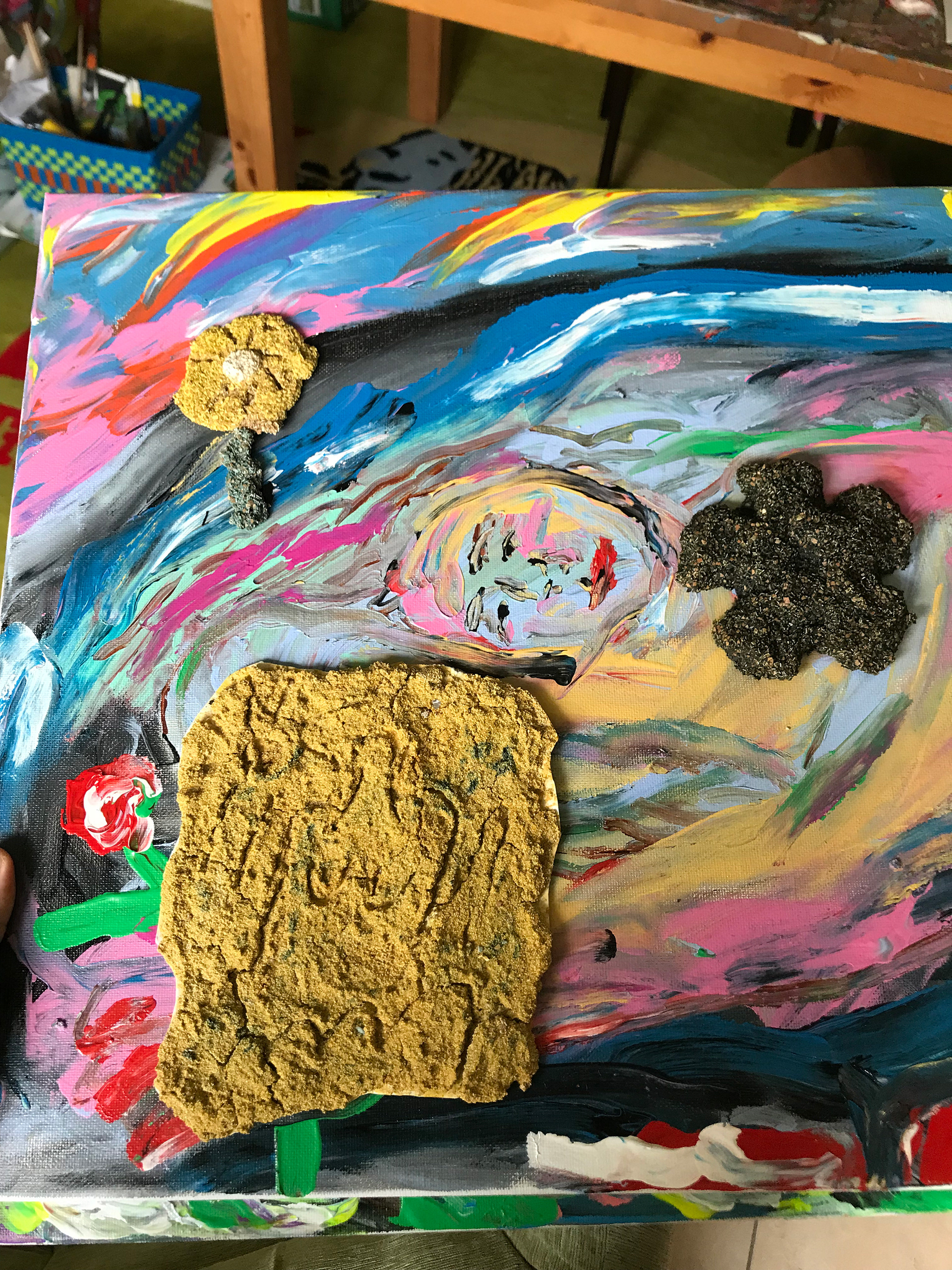 What are the challenges?
"Everything, to be honest! From collecting eggshells, drying them and especially measuring the mediums (which is not really my thing). I think because the process needs a lot of time and I normally paint and design everything very fast, so the whole process of making this is challenging for me."
Why do you find these ingredients/materials interesting?
"It's easy to collect and is one of not so many bright medium options. Also, I like the texture of it." 
Do you feel content with the work?
"Not really. I love the process of making the art but do not really enjoy preparing it. Also, I guess I made mistakes measuring the powder, so the medium was not as sticky as it should have been. I think if I use the correct measured medium and have more time to do it, I might feel more satisfied."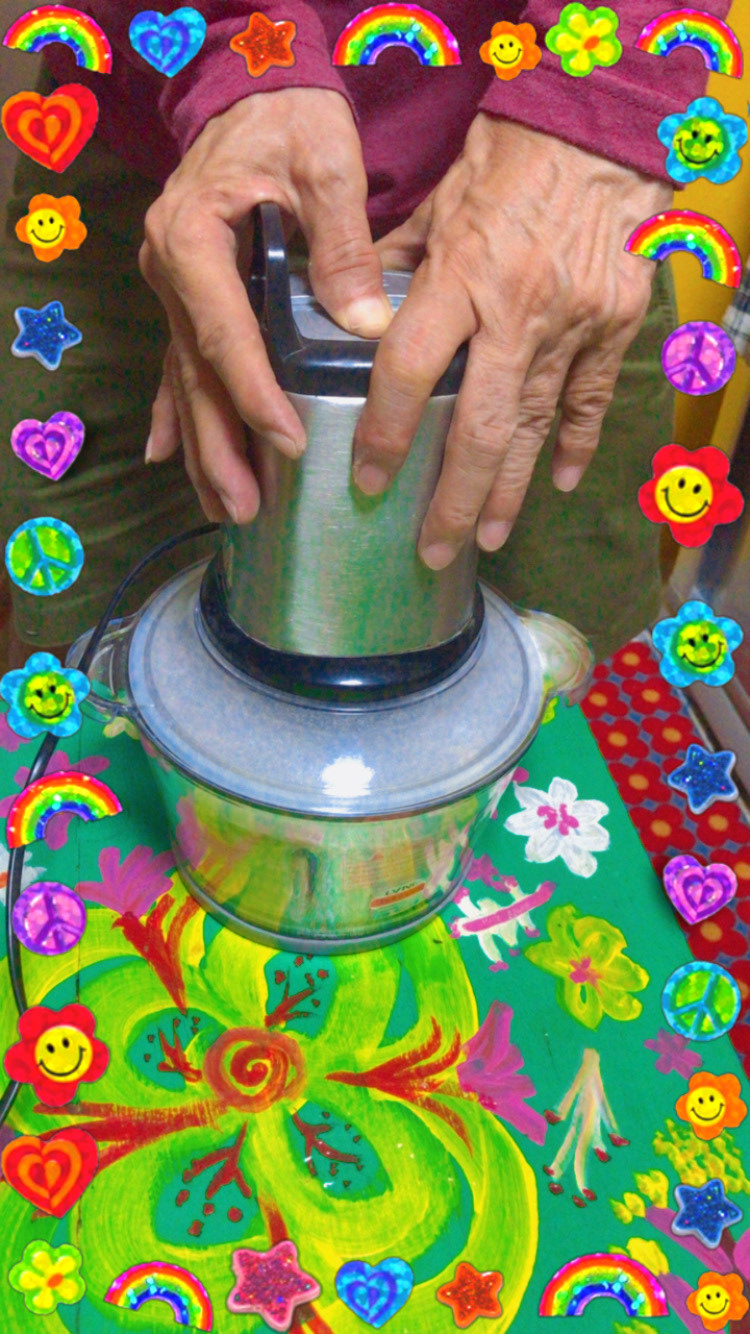 What do/don't you like about working with biomaterials?
"I like the idea of it, but to be honest, it's not so practical for my working lifestyle. It would be nice if there's a station where I can drop my food waste and get the biomaterials."
Do you want to explore more with biomaterials in the future?
"Of course, maybe if there are more bright-coloured materials or, as I mentioned, the station where I can get the ready-to-use one."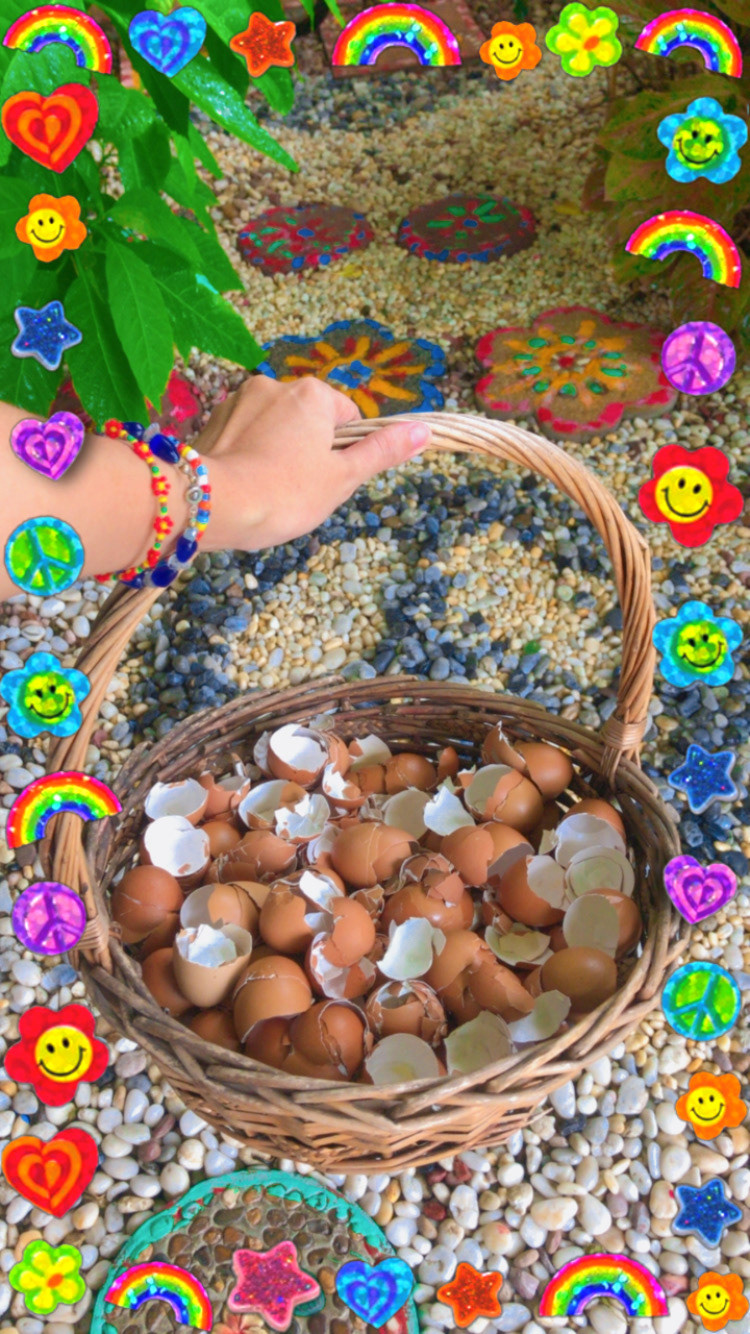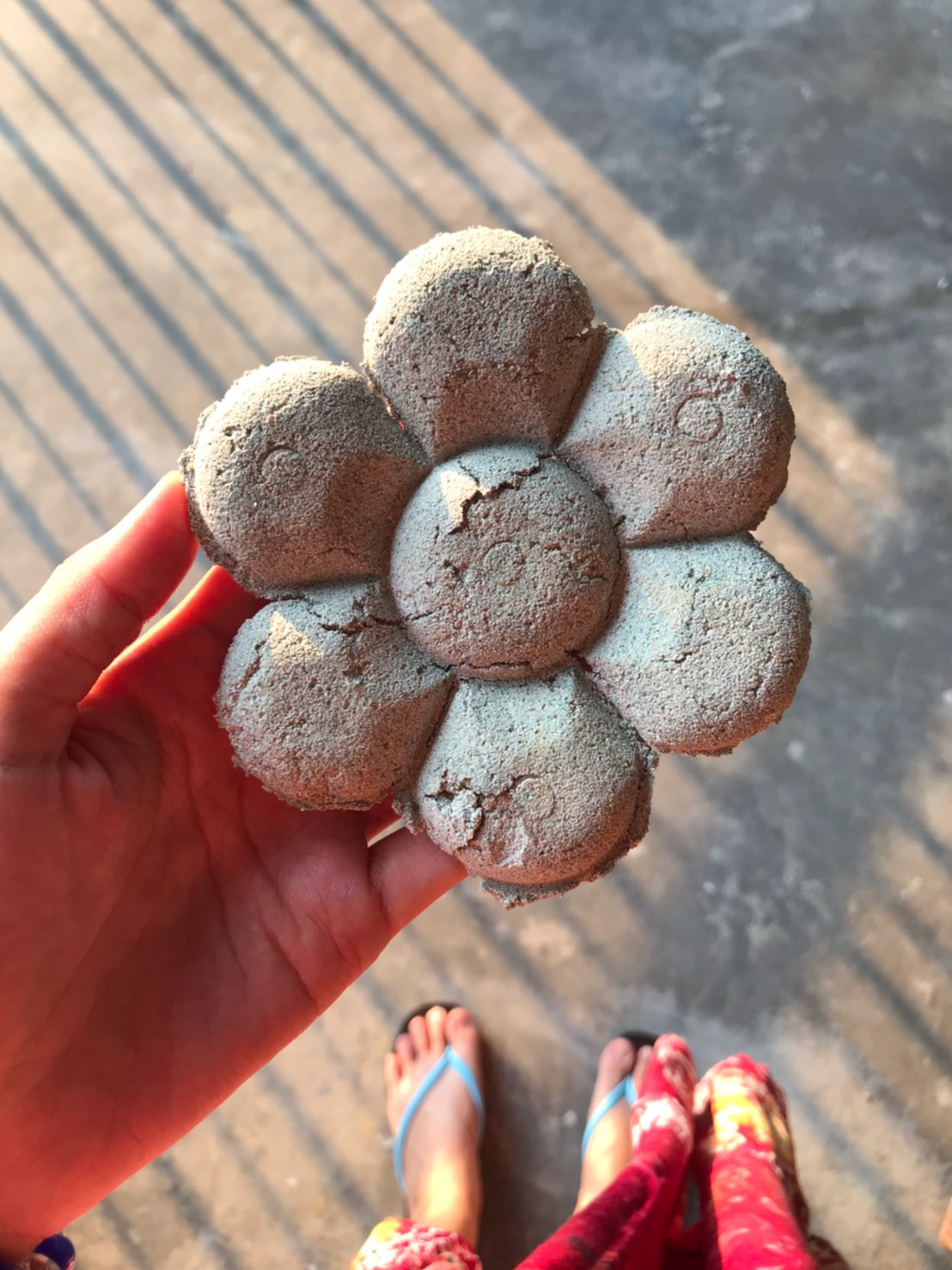 Chanaradee Chatrakul Na Ayudhya - Artist
Chanaradee Chatrakul Na Ayudhya started her artist career as Juli Baker and summer in 2015. Inspired by music, literature, films, everyday conversations and her trips around the world, Juli's joyous work depicts inspirational moments of life, fusing personal memories, pop culture reference and childlike imagination. Perpetual sunshine, semi-abstract tropical plants, fruity palette, and protagonists posing with effortless comfort, Juli's painted world has a certain utopian quality which echos her cheerful spirit.
Email: phaan_3993@yahoo.com