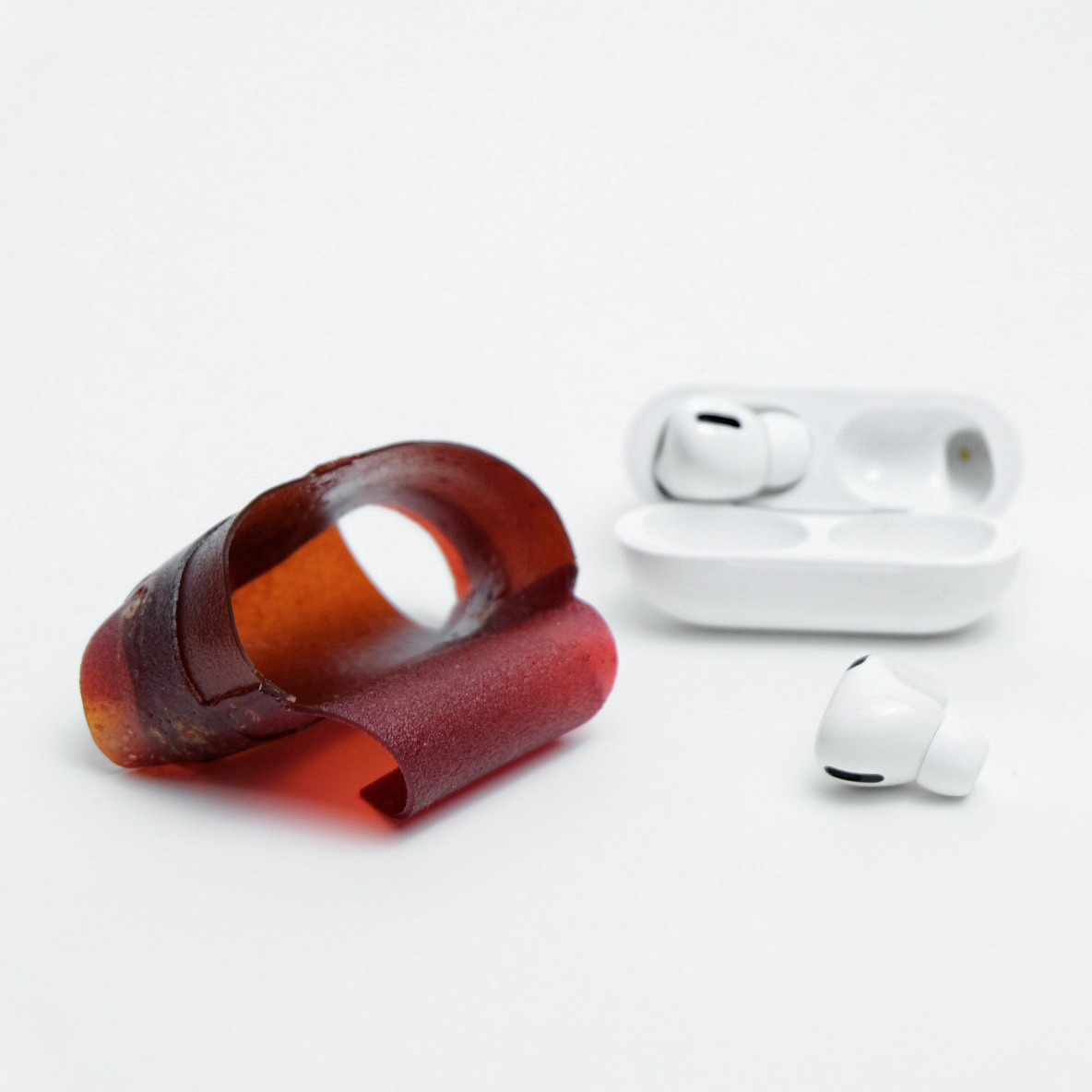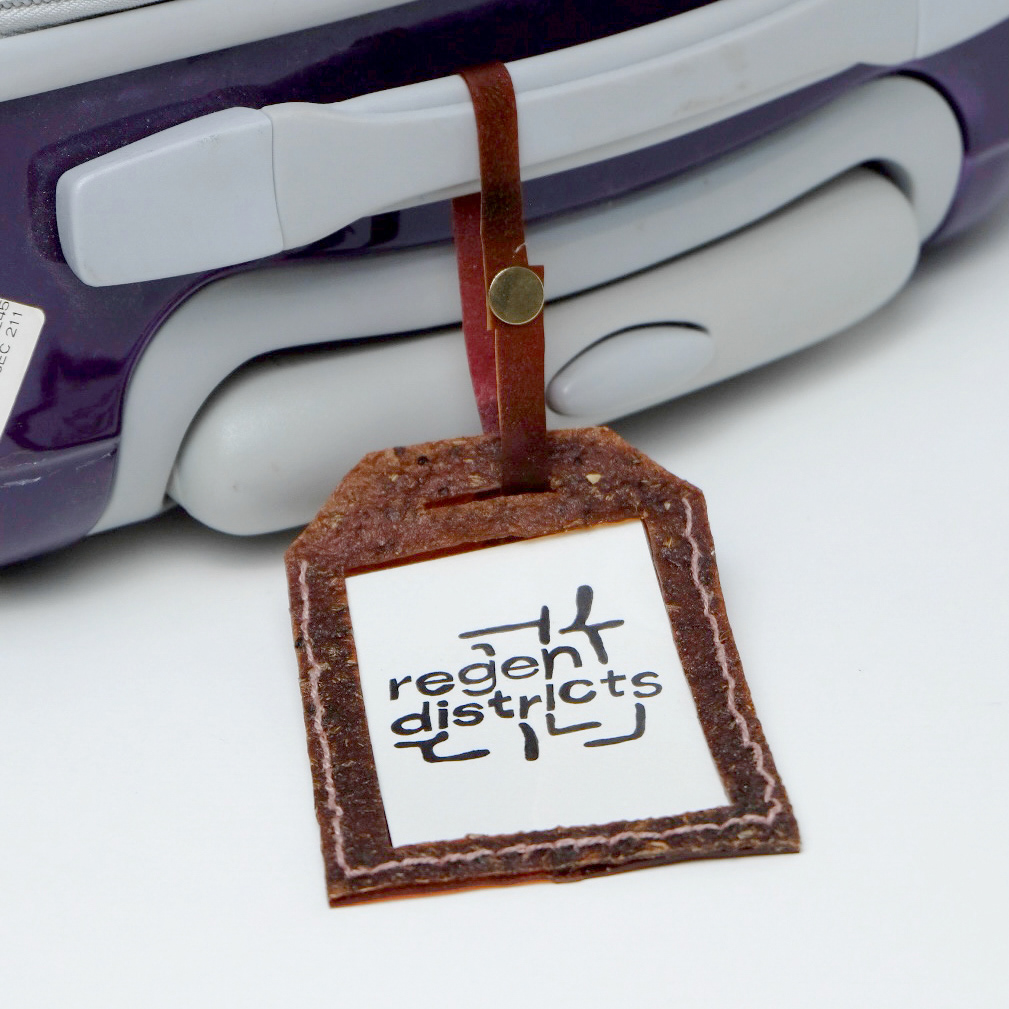 The Peel Collection was initiated from an interest in natural dyes, where colours can be extracted from organic waste. For example, Mangosteen peels (also known as 'the Queen of Fruit') can produce a beautiful & deep purple. By combining these dyes with the properties of Agar Agar, a plant-based gelatine derived from seaweed, a material resembling the texture to leather is derived; a material possessing the qualities of being smooth, durable and flexible.

The objective of this collection is to offer an environmentally friendly alternative for consumers. The collection strives to add value with surplus material resulting from over-consumption. The collection was designed to utilise locally sourced Thai goods.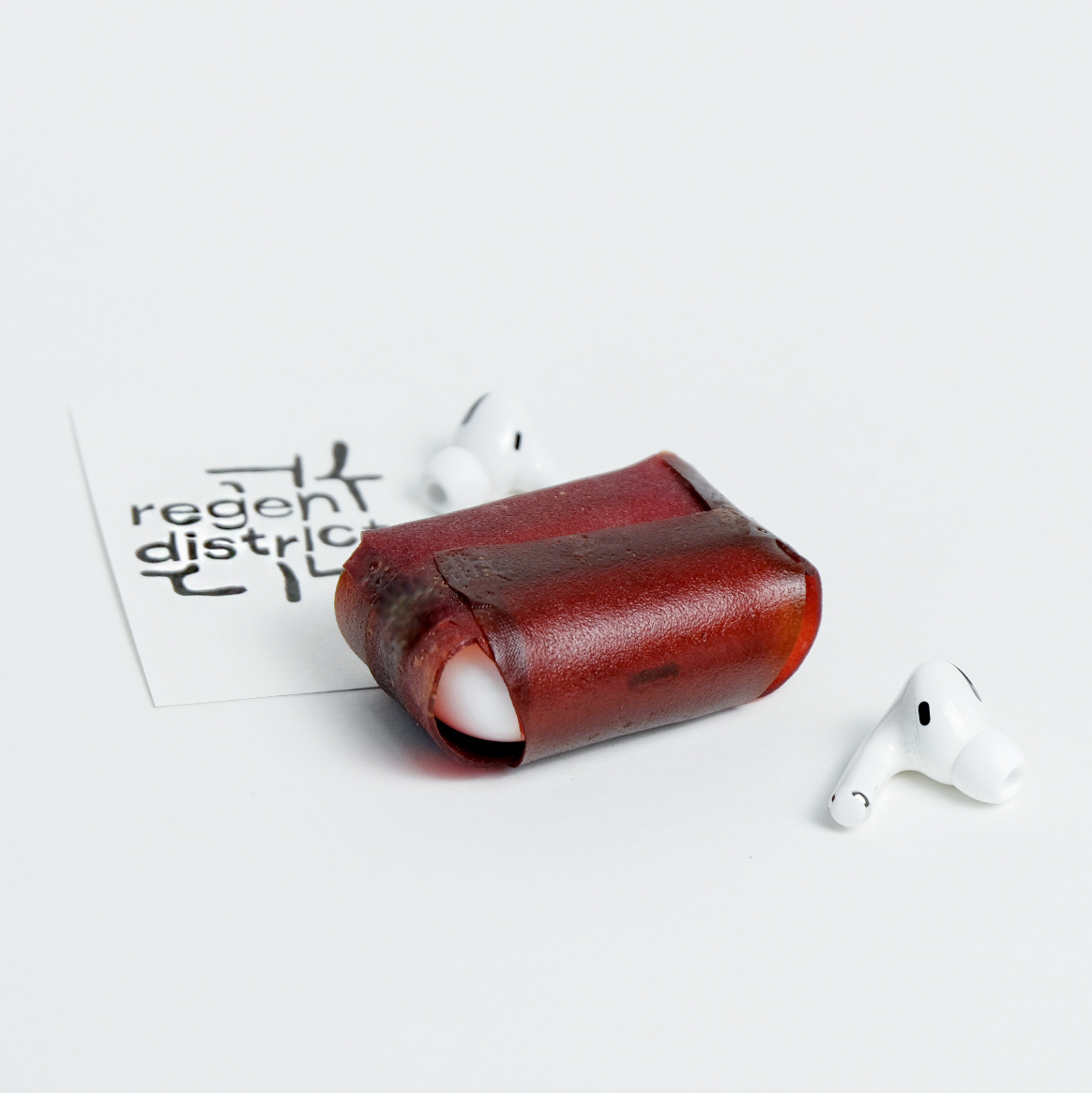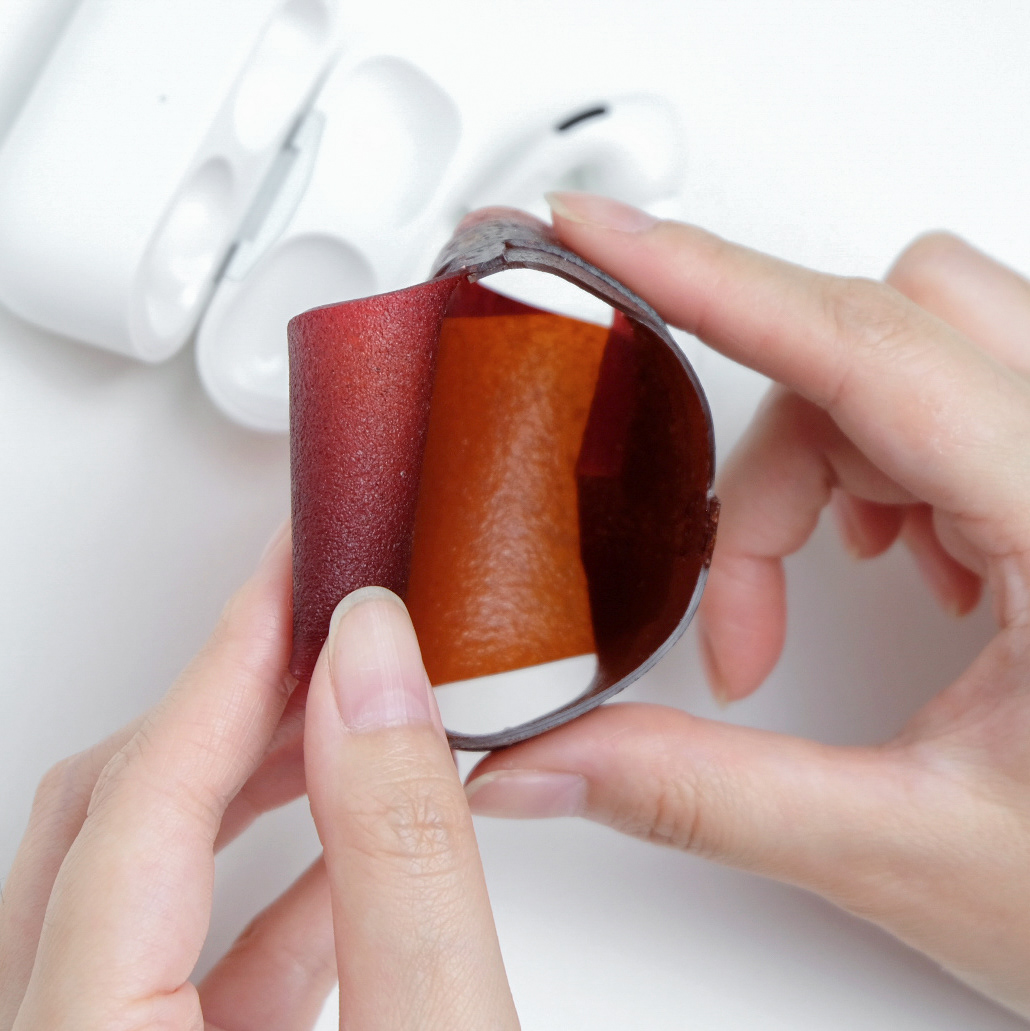 The Peel Collection ได้ริเริ่มมาจากความสนใจในการเรียนรู้วิธีย้อมผ้าจากสีธรรมชาติ โดยใช้เปลือกผลไม้ซึ่งเป็นวัสดุทดแทนที่สามารถย่อยสลายเองได้ เช่น การนำวัสดุเหลือใช้อย่าง เปลือกมังคุด หรือเป็นที่รู้จักกันว่า ราชินีผลไม้ มาประยุกต์ให้เกิดผลประโยชน์ โดยการนำมาผสมผสานกับ คุณสมบัติของอะการ์-อะการ์ วุ้นเจลาตินที่ทำจากพืช มาเป็นตัวกลางที่ผสานวัตถุดิบทุกอย่างเป็นหนึ่งเดียวกัน ผลลัพธ์และผิวสัมผัสของผลงานชิ้นนี้มีลักษณะคล้ายคลึงกับหนังสัตว์ จุดประสงค์ของผลงานชิ้นนี้เพื่อสร้างสรรค์ความหลากหลายให้กับผลิตภัณฑ์ที่เป็นมิตรกับสิ่งแวดล้อมและเป็นอีกทางเลือกให้กับผู้บริโภค ด้วยแนวคิดในการสร้างมูลค่าเพิ่มให้กับวัสดุที่เหลือจากการบริโภค การออกแบบที่ตั้งใจเลือกใช้ผลผลิตท้องถิ่นของไทยเพื่อต้องการเผยแพร่วัฒนธรรมไทยให้เป็นที่รู้จักต่อชาวต่างชาติมากยิ่งขึ้น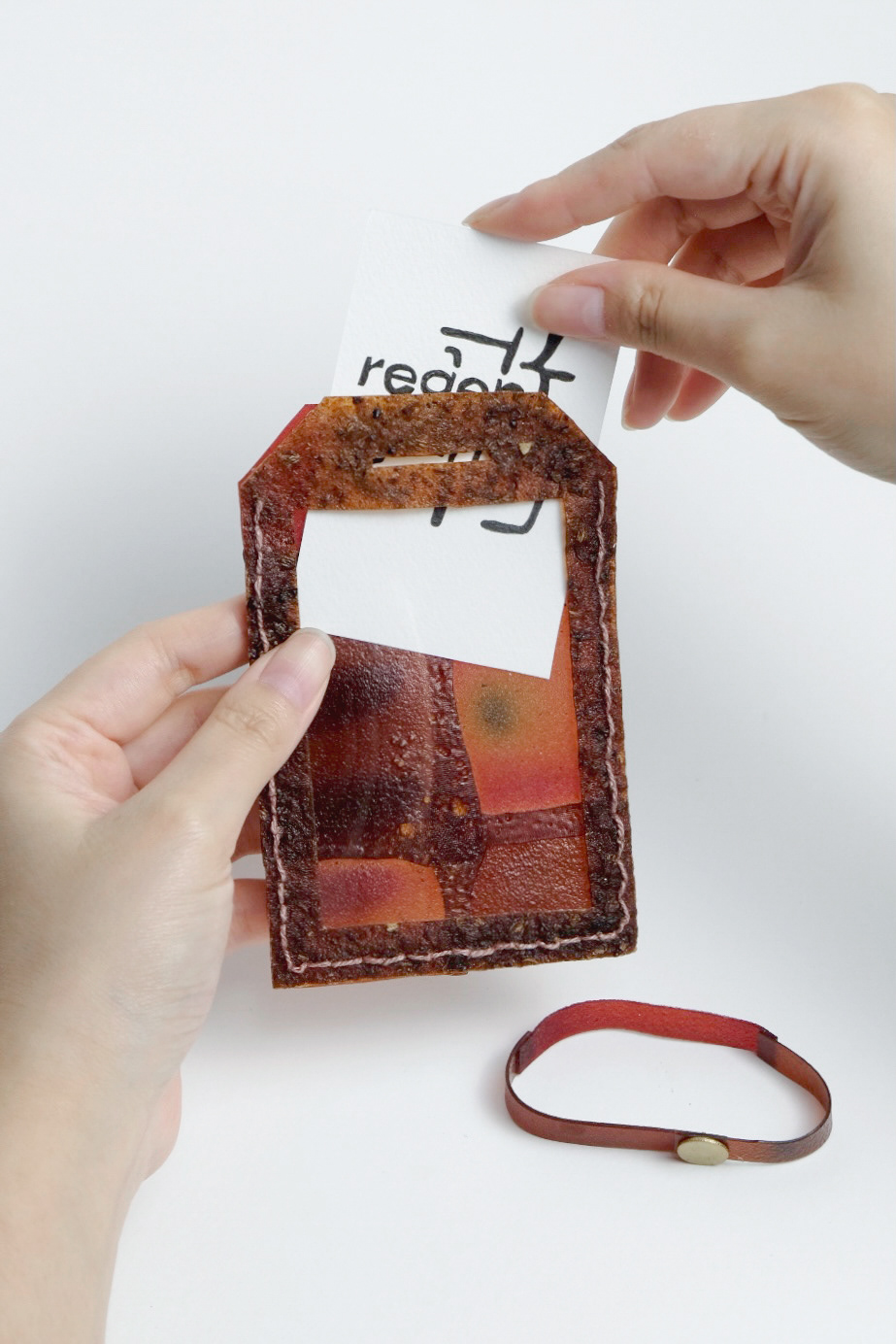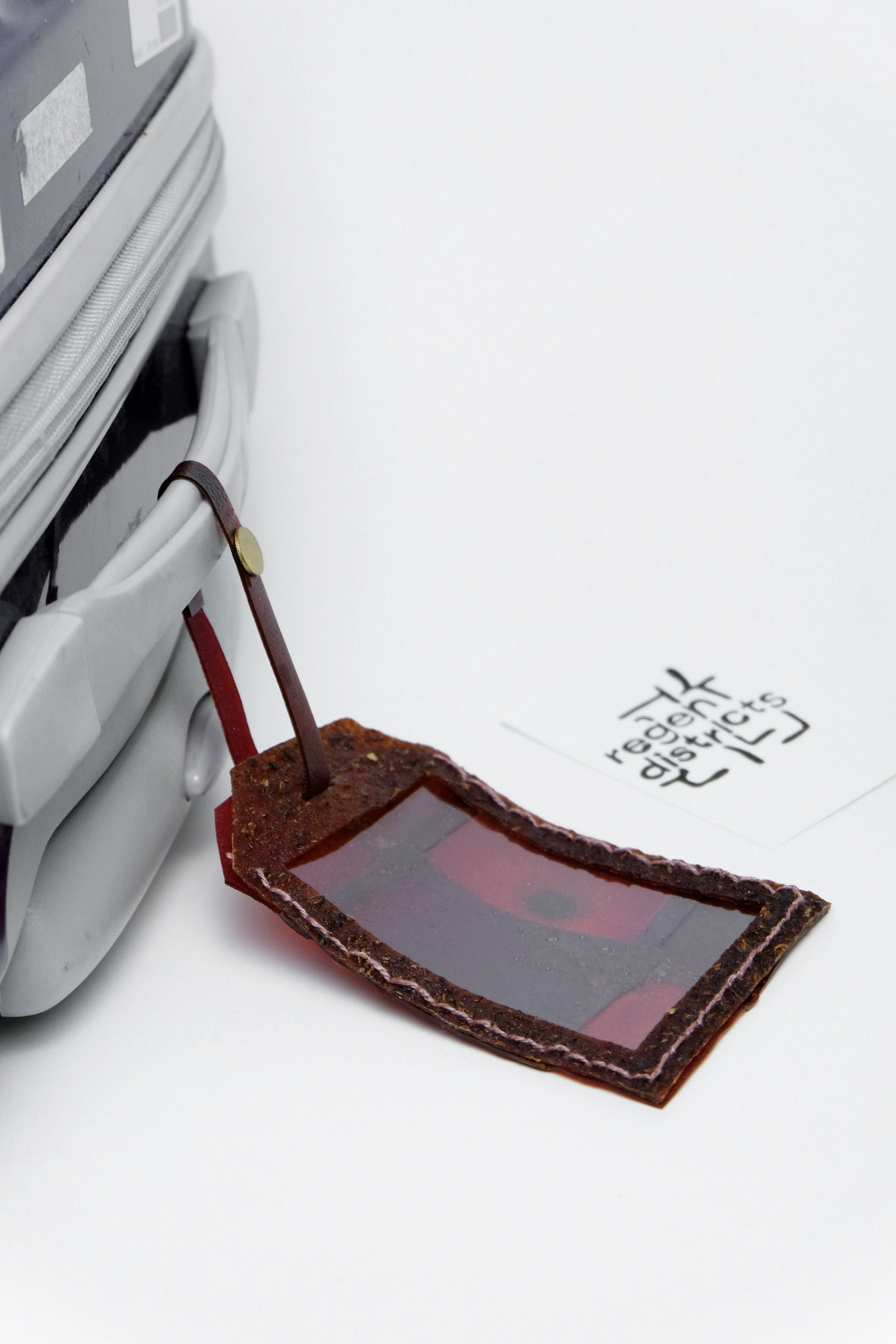 What are the challenges?
"The materials change every day. The environment (room temperature, humidity) affects the result of the outcome so much. It is very hard to control but I learned to be patient with it."
Why do you find these ingredients/materials interesting?
"These fruits remind me of my home country. Mangosteen is the queen of fruit and national fruit of Thailand. I felt connected with them and also a way of promoting local Thai goods"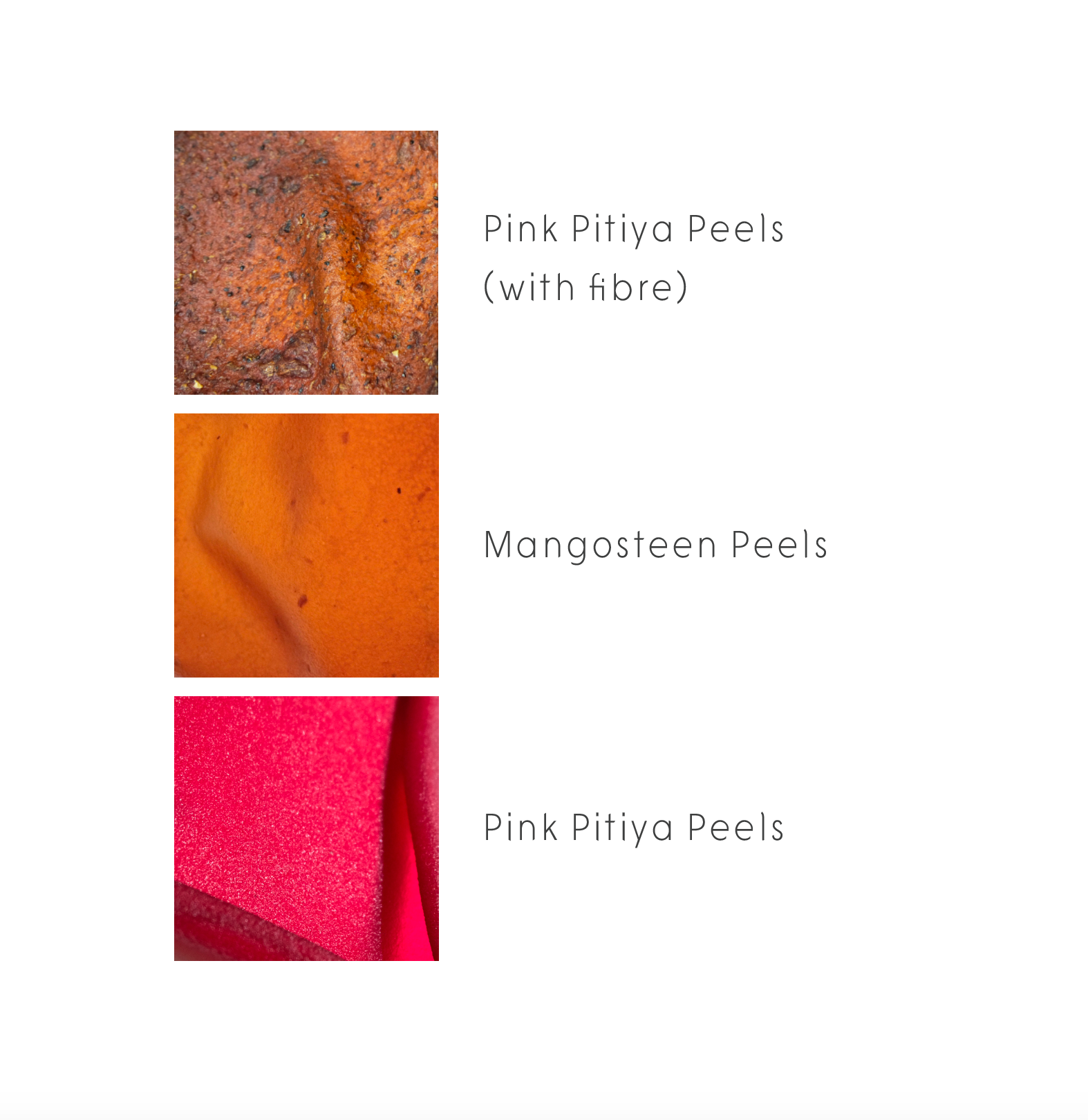 Do you feel content with the work?
"Yes, I'm happy with the outcomes even though it was not my original idea. Due to limited time and the nature of biomaterials, I had to keep developing the outcomes."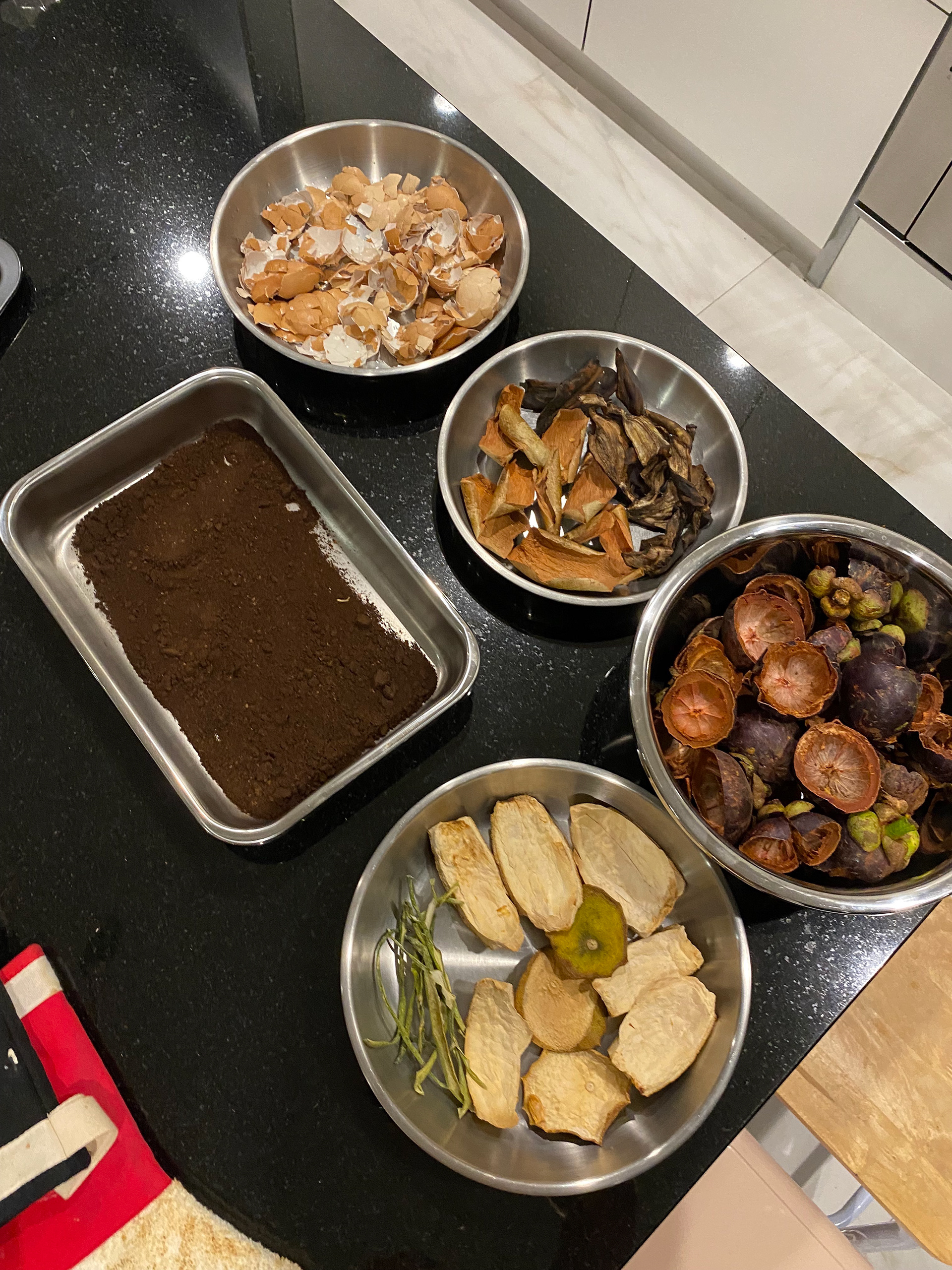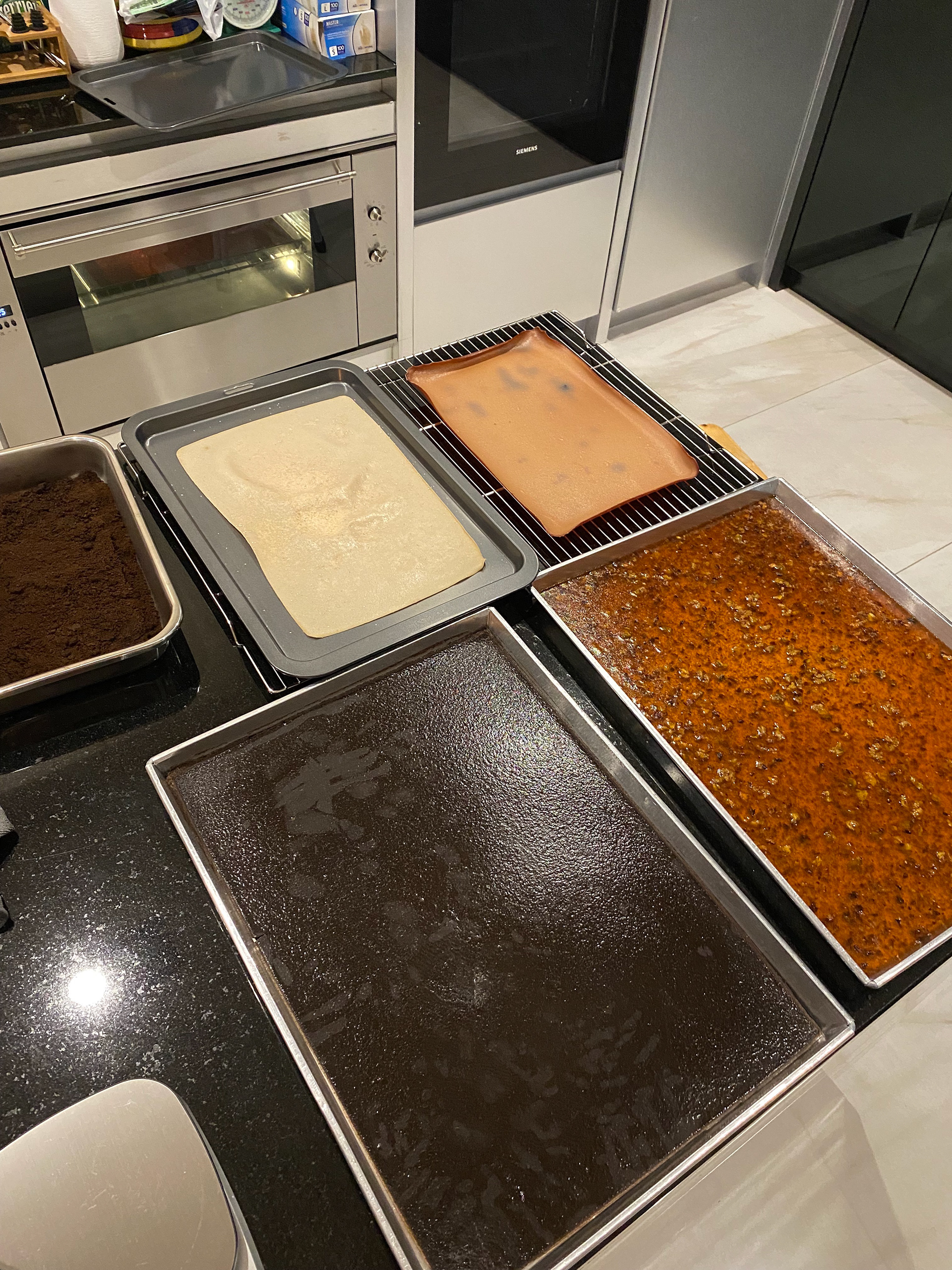 What do/don't you like about working with biomaterials?
"This project is all about experimentation. Everything is unpredictable. That was the challenge of it but also what makes it exciting."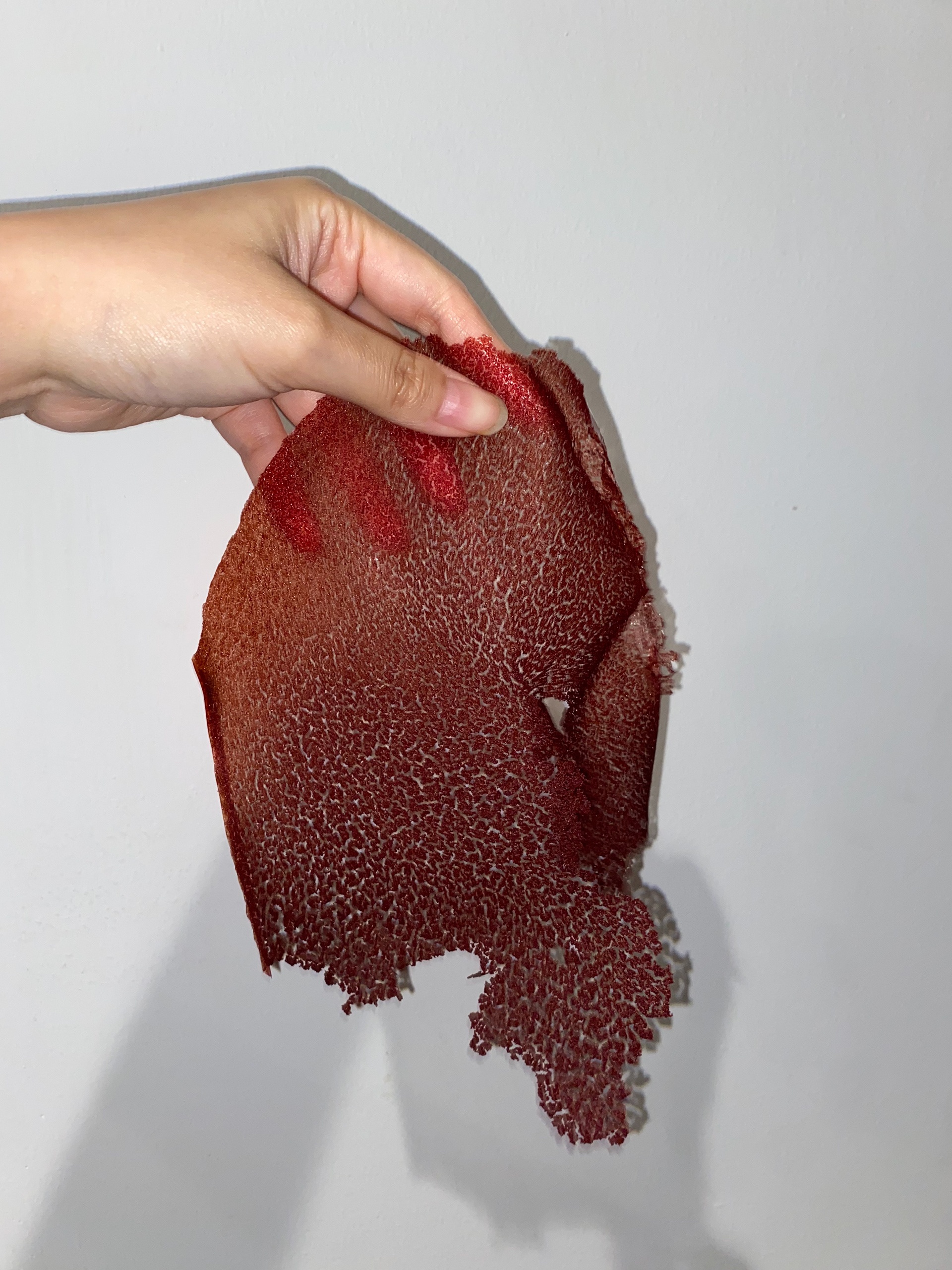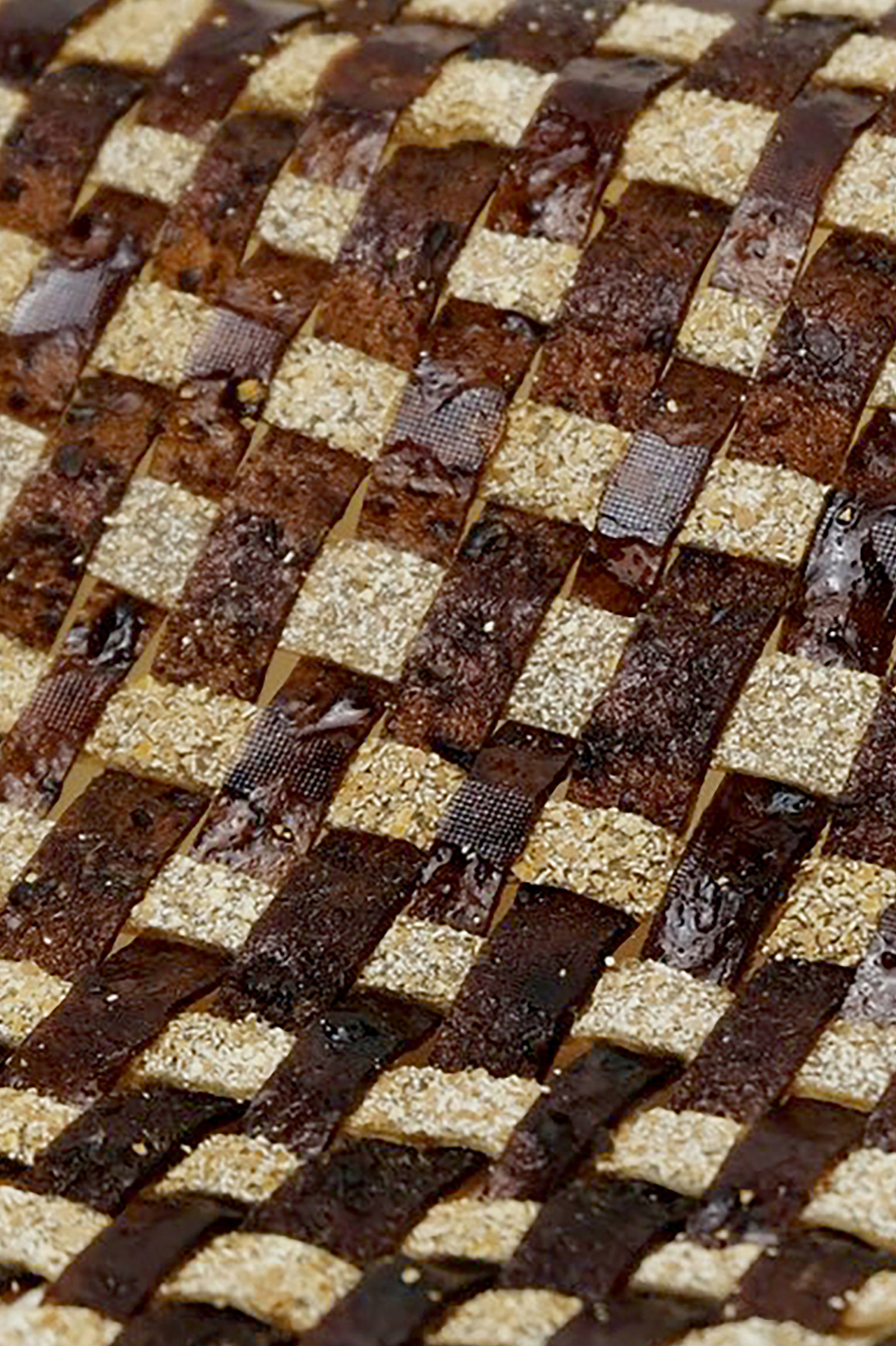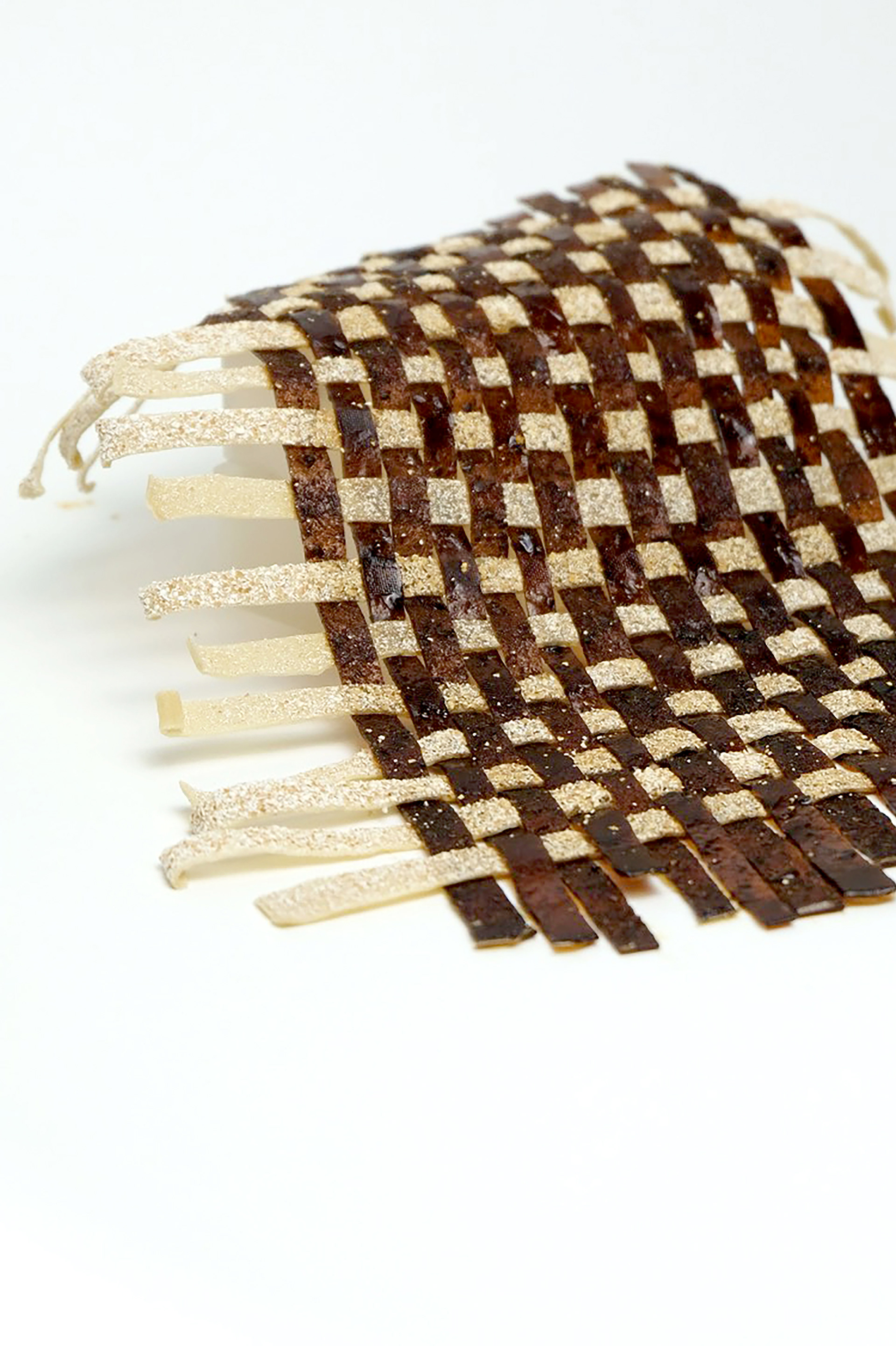 Do you want to explore more with biomaterials in the future?
"I would love to! Not that I only find them interesting, but I think it is also very important that we start to look for alternatives. Being in the design industry, we unintentionally produce so much waste and it is essential that we give back to the planet."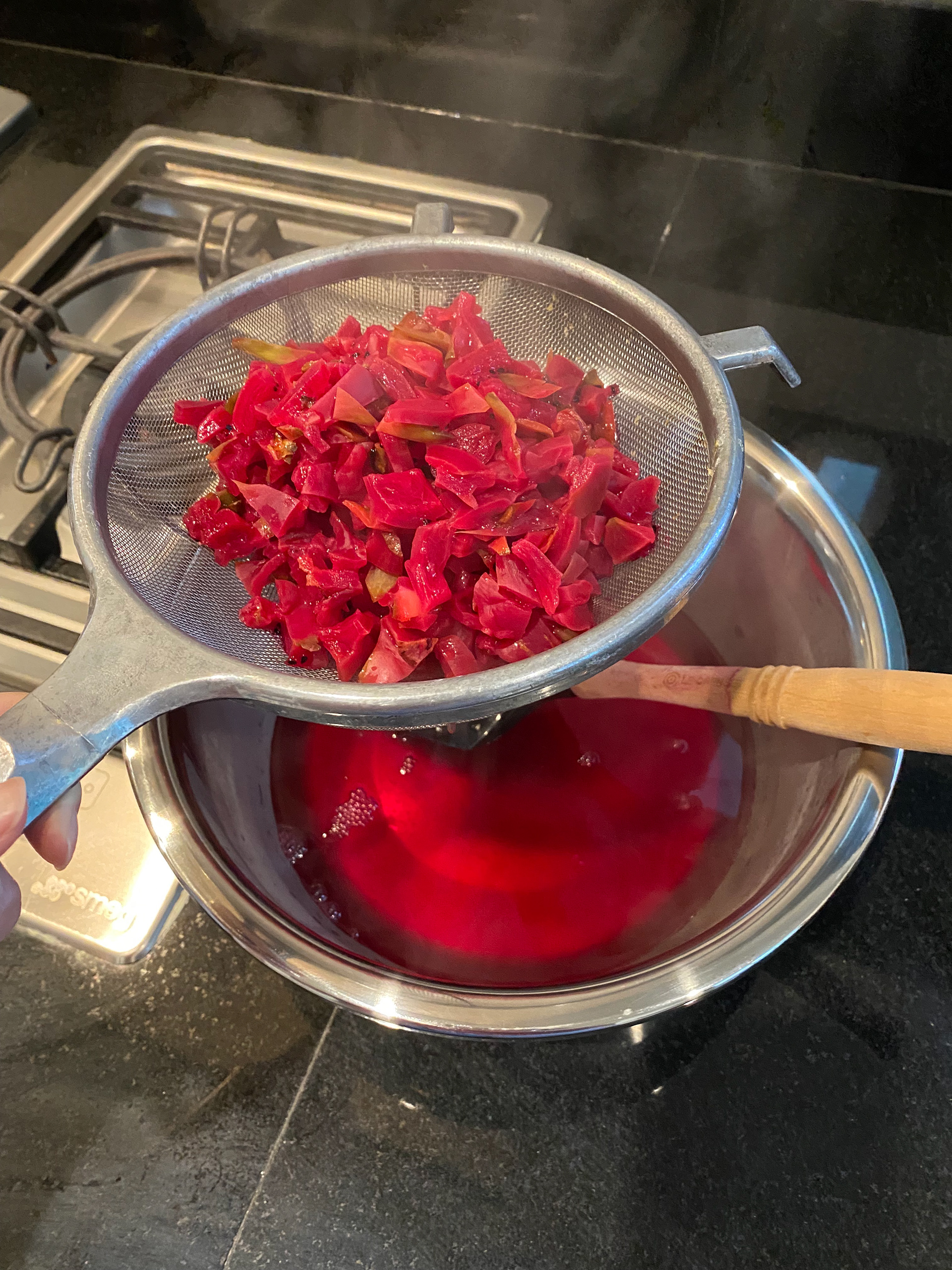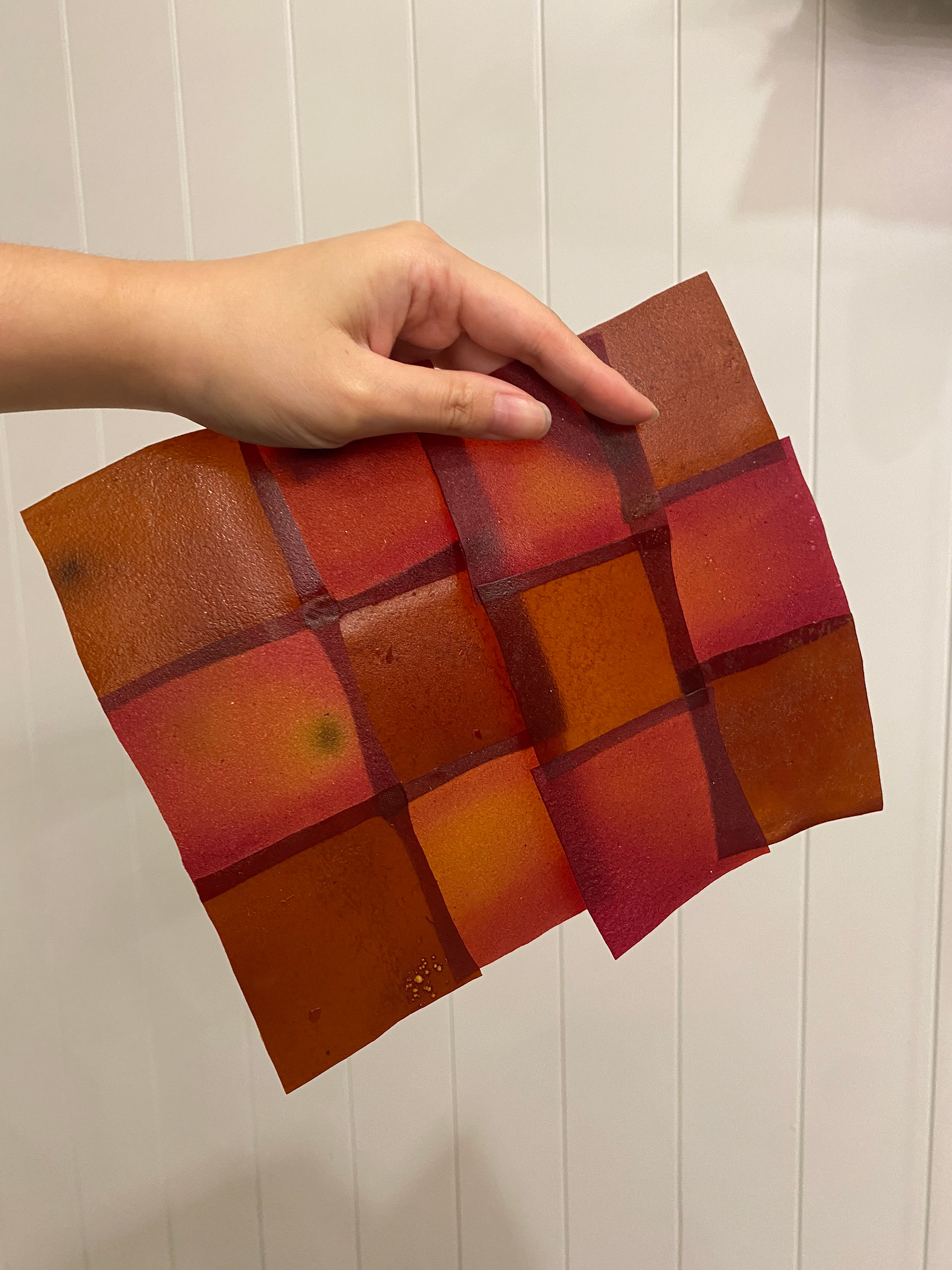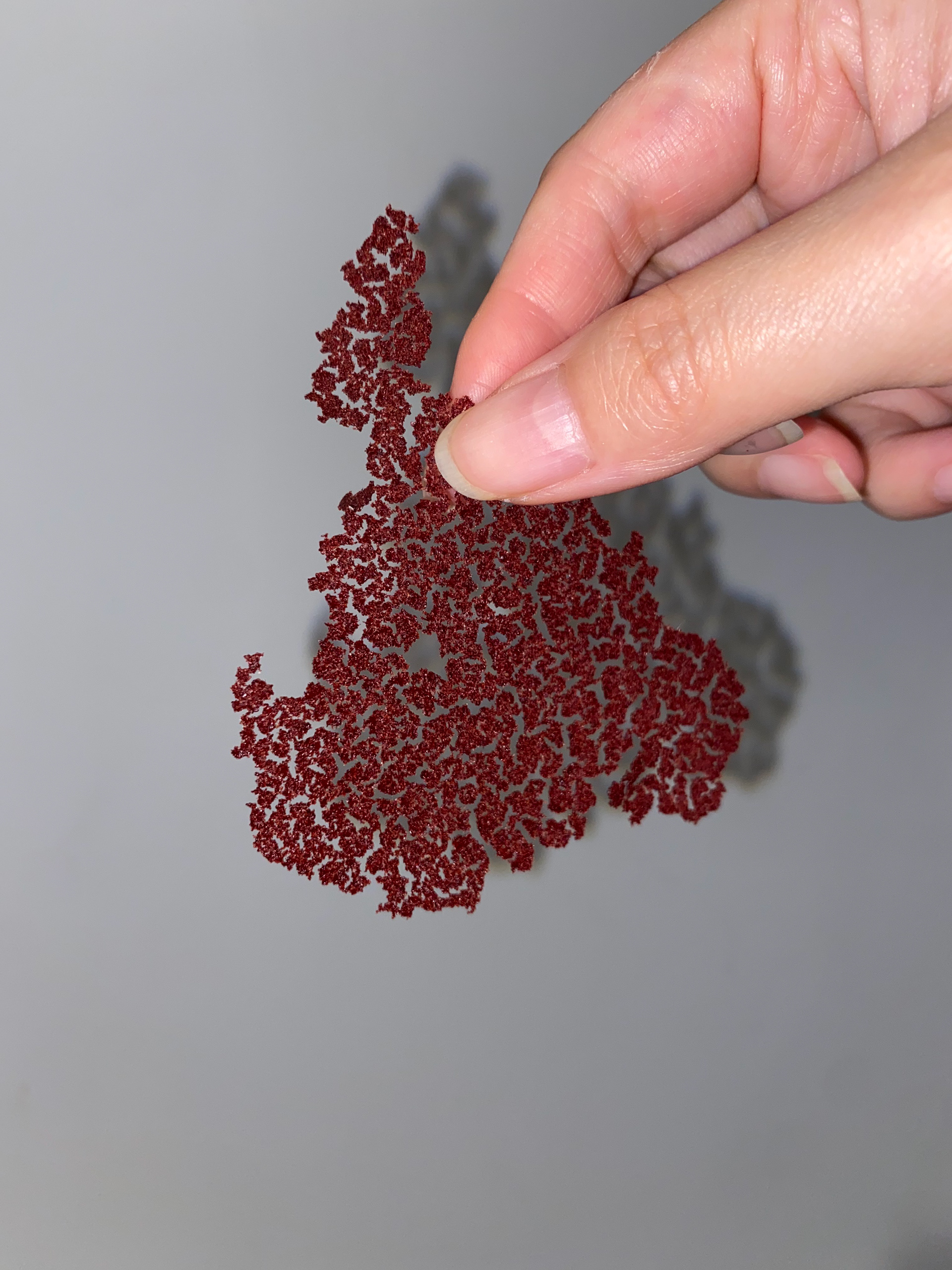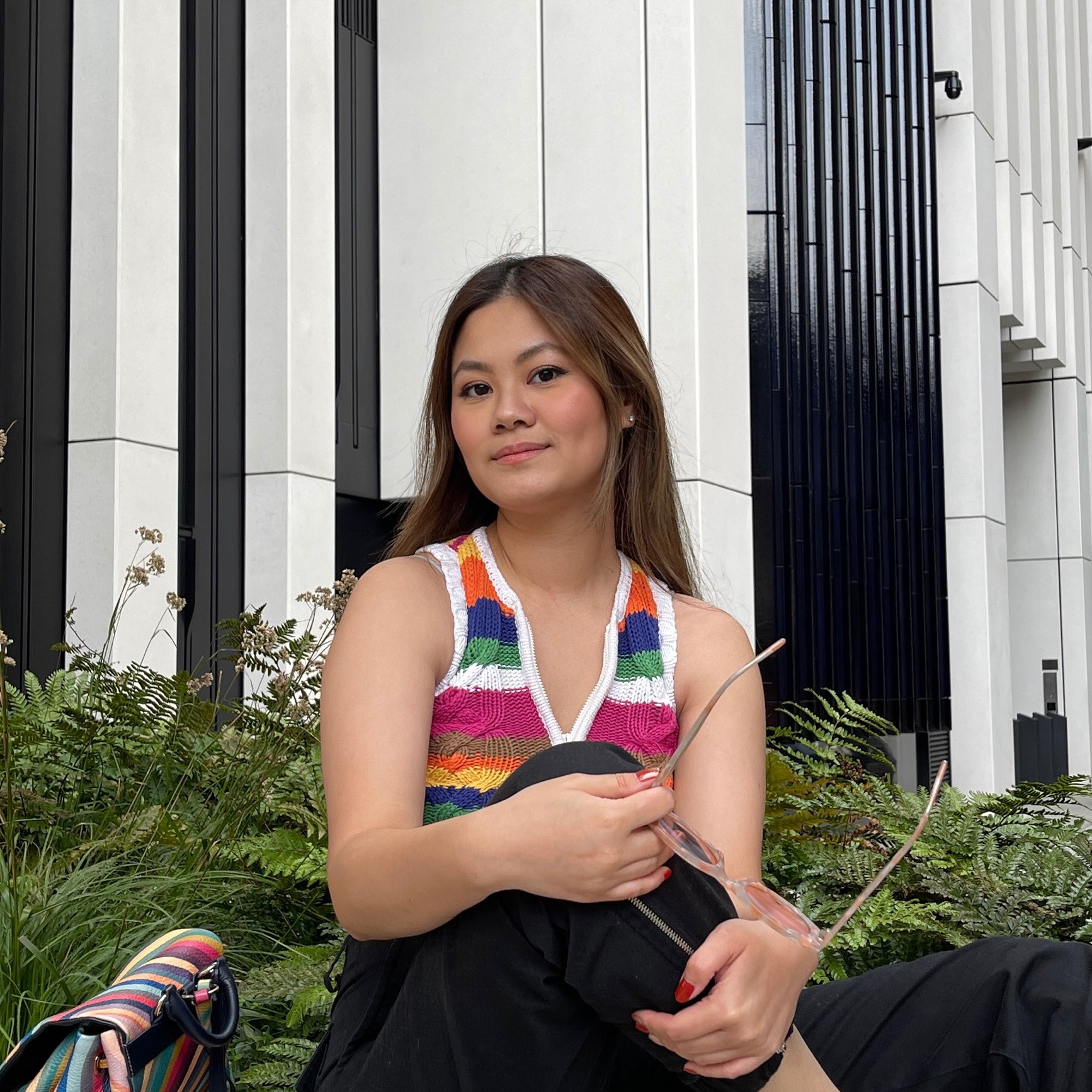 Chalita Jaewtrakul - Student
Chalita is a woven textiles designer, studying at Central Saint Martins, who explores, observes, wonders and creates from her surroundings. Discovering and appreciating the beauty of both nature and industrial goods and getting herself to engage with them. Texture and materials are her main interest and focus. She is always conscious and concerned for our environment, whenever it is appropriate an eco-friendly approach is applied. Not only the plants that she wants to preserve, but also traditional crafts. She is always searching for alternatives, being open-minded to investigate the different possibilities and perceive wherever it leads her.

Email: chalita.textiles@gmail.com